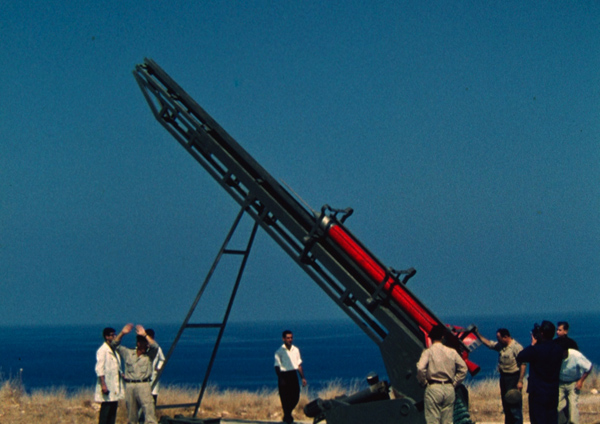 Title: "The Lebanese Rocket Society"Media: Film (still image)



Joana Hadjithomas and Khalil Joreige (Lebanon)
Lebanese Rocket Society (documentary film)
Hadjithomas and Joreige have spent several years researching the Lebanese Rocket Society project: a space adventure carried out at Haigazian, an Armenian university in Lebanon, by a group of scientists and students led by Manoug Manougian who designed, produced and launched the first rockets in the Middle East between 1960 to 1967. At the time of the cold war and pan arabism, the project made the headlines of all the major newspapers and became so well known that a stamp was issued commemorating it. Yet it has now sunken into oblivion, pushed from Lebaneses history and disconnected from the nation's self-image.
Together, they have directed documentaries such as Khiam 2000-2007(2008) and El Film el Mafkoud (The Lost Film) (2003) and feature films such as Al Bayt el Zaher (1999) and A Perfect Day (2005). Their last feature film, Je Veux Voir (I Want to See), starring Catherine Deneuve and Rabih Mroue, premiered at the Cannes film festival in 2008. The French critics Guild chose it as Best Film Singulier 2008. Their films have been multi awarded in international festivals and enjoyed releases in many countries. They have created numerous photographic installations, among them Faces, Lasting Images, Distracted Bullets, The Circle of Confusion, Don't Walk, War Trophies, Landscape of Khiam, A Faraway Souvenir and the multifaceted project Wonder Beirut.
Their artworks have been shown in museums, biennials and art centers around the world, in solo or collective exhibitions and are part of important public and private collections, such as Musee d'art Moderne de la Ville de Paris; FNAC France; the Guggenheim, New York; the Centre Georges Pompidou, France; V & A London, the Sharjah Art Foundation, UAE… They are recipients of the 2012 Abraaj Capital Art Prize with A Letter Can Always Reach Its Destination.