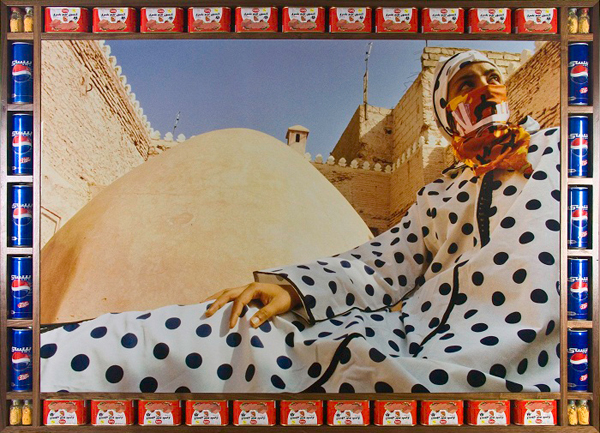 Title: "Dotted Peace"
Date: 2000 | Size: 76.2 x 111.8cm
Media: | C-print, Walnut wood frame and found object



Hassan Hajjai (Morocco)
Hassan Hajjaj's, My Rock Stars" series, is an homage to the 1960s – 70s tradition of African studio portrait photography which the artist has been working on since 1998. It is a celebration of the contemporary pop stars, street performers, artists, musicians, etc that the artist encounters: "not just musicians but the snake charmer, henna girl, bad boy, male belly dancer … I wanted to give them a backdrop and started from there."
The photographs are made by using a pop-up studio which the artist erects on the streets of Morocco, London, Paris, Kuwait, etc. Using props of traditional mats and fabrics as well as found objects from local markets of his hometown Marrakesh, the artist explores the associations and displacement of African, Arabic and Western cultural identity. In addition to the considered design of the pop-up studio setting, the subjects often wear clothes that the artist has designed with the final image set in an elaborate frame that he has designed. These may contain such items as 7-Up and Coca-Cola cans as a reference to the contemporary cultural values and aspirations of his subjects and the impact of the global market on their environs.
Hassan Hajjaj was born in 1961 in Larache, Morocco and is currently resident and working both in London and Marrakesh. He is internationally renowned for his photography which is featured in many prestigious public and private collections worldwide. In 2011 he won the Sovereign Art Foundation Middle East and African Art Prize and was shortlisted for the Jameel Prize in 2009 for an exhibition at the Victoria & Albert Museum, London, which toured Riyadh, Damascus, Beirut, Casablanca, Istanbul and Tehran.
Hassan Hajjaj's recent solo exhibitions include "My Rock Stars: Experimental, Volume 1" (video work), LACMA - Los Angeles County Museum of Art, California (2013-2014); "'Kesh Angels", Taymour Grahne Gallery, New York (2014); "My Rock Stars, Volume 2", Gusford Gallery, Los Angeles (2014); and "Fotofest 2014 Biennal: Contemporary Arab Photographic Art", Houston, Texas.
Hajjaj has also appeared in numerous group exhibitions, including the Marrakesh Biennale, Gueliz, Marrakesh (2014); International Photo Festival, Knokke-Heist, Belgium (2014); "Fotofest 2014 Biennial - Contemporary Arab Photographic Art", Houston, Texas (2014); "10 photogrphes contemporains marocains" Marrakesh Museum for photography and the Visual Arts (MMP+) at the El Bsdi Palace, Marrakesh (2013); "Au Bazar du Genre, Féminin – Masculin en Méditerranée", Musée des civilisations de l'Europe et de la Méditerranée (MuCEM), Marseille (2013); "Rock Stars Experimental, Volume 1", Virginia Commonwealth University in Qatar (2013), Doha; "Syri-Arts" at the Beirut Exhibition Centre, Lebanon (2013)