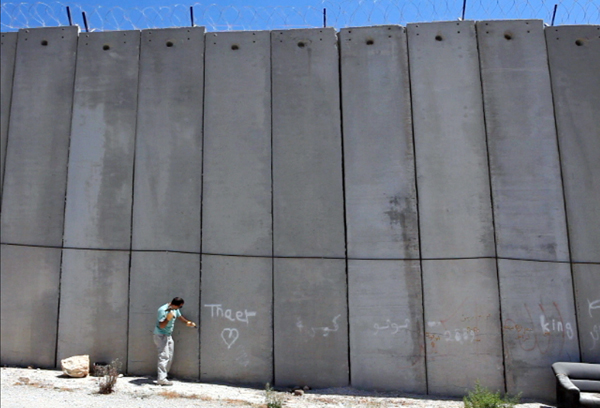 Title "Concrete" | Media: Film (still image)



Khaled Jarrar (Palestine)
Palestinian artist Khaled Jarrar works with photography, video, and performance to interrogate the problematic situation in his native country, particularly the question of recognition of the State of Palestine and the militaristic discourse around this. He uses his artistic practice as a means of thinking about questions of conflict, nationhood, home and belonging. The notion of state authority is a recurring concern: his project Live and Work in Palestine (2011-ongoing) saw the artist design a seemingly official Palestinian passport stamp which was then offered to tourists arriving in Palestine. Jarrar recently constructed an imposing concrete wall extending across the length of Ayyam Gallery London, creating an allegory for the process endured by people crossing the apartheid wall in the West Bank in order to reach their homes in Palestine.
Jarrar has also shown resistance to what he considers an act of oppression through his series of cement soccer balls, formed from material cut from the Israeli-built barrier. In addition, Jarrar is an award-winning filmmaker whose recent documentary, The Infiltrators (2012), won several accolades at the 9th Dubai International Film Festival.
Born in Jenin in 1976, Khaled Jarrar lives and works in Ramallah, Palestine. He completed his education in Interior Design at the Palestine Polytechnic University in 1996, then graduating from the International Academy of Art Palestine with a BA in Visual Arts in 2011. Jarrar rose to prominence with his 2007 exhibition, At the Checkpoint, which was placed in full view of the Israeli soldiers at Howarra & Qalandia checkpoint. Recent solo exhibitions include Ayyam Gallery London (2013); Galerie Guy Bartschi, Geneva (2013); the NEWTOPIA: The State of Human Rights Contemporary Arts in Mechelen and Brussels (2012); Galerie Polaris, Paris (2012); Al-Mahatta Gallery, Ramallah (2009); Al-Mahatta Gallery, Ramallah (2007); International Academy of Art Palestine, Ramallah (2007). Recent group exhibitions include USF Contemporary Art Museum, Tampa (2013); The Madrid Palestine Film Festival (2013); the 15th Jakarta Biennale (2013); the 7th Berlin Biennale (2012); 52nd October Salon, Belgrade (2011); Al-Ma'mal Foundation, Jerusalem (2010); London Film Festival (2010); and the Instant Video Festival, Marseille (2009).