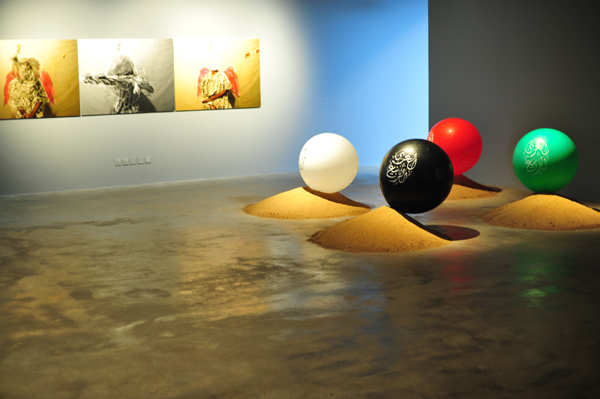 Title: "Arab Spring" Installation view



Faisal Samra (Saudi Arabia/Bahrain)
Bahraini-born Saudi national, Faisal Samra graduated from the Ecole Nationale Supérieure des Beaux-Arts in Paris. He worked as an art and graphic design consultant for the Institut du Monde Arabe (Paris), and later as a stage designer for Saudi television. In 2004 he taught in the Fine Arts department of the Amman University in Jordan and obtained his first artist residency in Paris, at the Cite International des Arts, in 2005 to which he continues to be associated.
Having lived and worked in Paris, New York, Beirut, Marrakesh and the Far-East, Samra describes himself as a 'nomad wandering through time'. This cultural amalgam of experiences has led to diversity in his artistic practice. Fusion has become characteristic of Faisal Samra's work.
He works in various media, including digital photography, painting, sculpture, video and performance, with which he engages the problematics and manipulation of visual representation and cultural systems by the mass-media. His work references both historical and contemporary realities.
Faisal Samra has participated in numerous group shows, including "Word Into Art" at the British Museum (London and Dubai), "Languages of the Desert: Contemporary Arab Art from the Gulf States" (Abu Dhabi, Paris and Kunstmuseum, Bonn), and "Traversée", (Paris, Cairo, Rabat). He has had solo exhibitions in Middle-Eastern and European institutions alike, and is in the collections of The British Museum (London) National Museum (Mexico City), Modern Art Museum (Cairo), Enrico Navarra (Paris), Saeb Eigner (London), Sheikha Paula Al Sabah (Kuwait), among others. Samra has also participated in Biennials in Singapore and Cairo, and is a jury member of the Alexandria Biennale, Egypt.