Project subtitle: Hanji Metamorphoses
June 28 - July 5, 2012
The transmutation of Hanji paper from mulberry pulp to the manifestation of creativity
Hanji is a Korean process that combines the bark of the Mulberry Tree (Dak in Korean) and the mucilage of the Hibiscus to create a unique paper that is transformed by the works of scribes, artists, designers and crafts people. There are various forms of Hanji including beautiful papers that are cherished by artists and calligraphers, others that are suited to sculpture and furniture design and a silken cloth woven from paper fibers that may be used for apparel. "Hanji Metamorphoses" is a proposal to invited artists and designers to explore the creative potential of this wondrous material. These include artists who work with traditional medium, digital artists, industrial designers, architects, performance artists, musicians and fashion designers. "Hanji Metamorphoses" will manifest in exhibitions and events at venues in New York City from June 28th through July 5th, 2012.
Organized by: Hanji Development Institute
Artistic Director: Yu Yeon Kim
Sponsored by: Ministry of Culture, Sports and Tourism of the Republic of Korea
Supported by:
Permanent Mission of the Republic of Korea to the United Nations
Consulate General of the Republic of Korea in New York
Korean Cultural Service New York
Presidential Council on Nation Branding
The Korean American Association of Greater New York
Rubin Museum of Art
AMOREPACIFIC US, Inc.
Rubin Museum of Art
Official Opening Reception Only
Date: June 28th, 6:15pm - 8:00pm
150 West 17th Street, New York, NY 10011
Contemporary Art
Hanji Metamorphoses
Opening Reception : June 29 Friday 6:00pm – 8:00pm
High Line Loft | Chelsea
508 West 26th Street, 5th Floor, New York, NY 10001
Space 547 | Chelsea
547 West 27th Street, 6th Floor, New York, NY 10001
Space 526 | Chelsea
526 West 26th Street, Suite 805, New York, NY 10001
Participating Artists
Korea
Ahn Sung Keum, Cho Duck Hyun, Ham Sup, Han Ki-joo, Kim Kichul, Kim Seung Young, Random Walks, 16 Mir : Choi Hyun-Seok, Choi Mi-yeon,
Jang Mi, Jang Sae-mi, Jung Jin-Hwa, Kim Jae-hyun, Kim Seong-Sil, Ko Jung-Ho, Lee Daeho, Lee Ha-Na, Lee Ho-Uk, Lee Sun-Ye, Lee Young-Ho,
Oh Jong-Won, Park Minsoo, Yu Hong-Young
International
Alison Crocetta (USA), Changhak Choi (Korea/USA), Choi Ildan (Korea/USA), Elena Berriolo (Italy/USA), Hangman Zo + Jiyoung Seo (Korea/USA),
Hey-yeon Jang (Korea/USA), Hu Bing (China/USA), Jiwon Park (Korea/USA), JungJin Lee (Korea/USA),
Lim Choong Sup (Korea/USA), Mina Cheon (USA), Nick Lamia (USA), Olu Oguibe (Nigeria/USA), Pat Lipsky (USA), Peter Bogardus (USA),
Samira Abbassy (Iran/UK), Seongmin Ahn (Korea/USA), Sook Jin Jo (Korea/USA), Sue Gyeong Syn (Korea/USA), Wang Tiande (China)
Hanji Seminar & Workshop
June 30 Saturday 1:00pm – 2:00pm
The Korean American Association of Greater New York
149 West 24th Street, 6th Floor, New York, NY 10011
Participants
Prof. Yangjin Kim, Jang Eung Yul and More
Traditional Craft Show
Opening Reception : June 30 Saturday 2:00pm - 3:00pm
The Korean American Association of Greater New York
149 West 24th Street, 6th Floor, New York, NY 10011
Curated by Im Myung-Sook
Participating Hanji Craft Artists
Boo-Ok Lee, Choi Wui-Sung, Im Myung-Sook, Jaram Kim, Kang Young-Sook, Kim Eun Hee, Kim Han-Soo, Kim Hye-Mi-Ja, Kim Weon-Ja,
Lee Hye-Soon, Lee Kei In, Lee Yu-Mi, Mun Yu Mi, Na Seo-Hwan, Park Woong-Sun, Yu Hee-Ja
Hanji Paper Plastic Art
Opening Reception : June 30 Saturday 4:00pm – 6:00pm
Rogue Space | Chelsea
508 West 26th Street, 9th Floor, New York, NY 10001
Curated by Changho Jun
Participating Hanji Paper Artists
Changho Jun, Im Hye Sook, Kim Jungsik, Kim Jungsoon, Kim Taeyoun, Lee Myung Jun, Oh Myung-hee, Sang Hoon Yang, Sunwon Lee,
Yang Seongwon, Young Soon Cha, Young Sung Kim
Hanji Metamorphoses Fashion Show
July 2 Monday 6:00pm - 8:00pm (V.I.P Only)
Permanent Mission of the Republic of Korea to the United Nations
335 East 45th Street, New York, NY 10017
Participating Designers
Korea
COINONIA (Kiho Kim, Momoko Hashigami)
International
D2 New York (Jie Euen Choi, Minjung Park, Soyoon Park, Yoonhee Joe)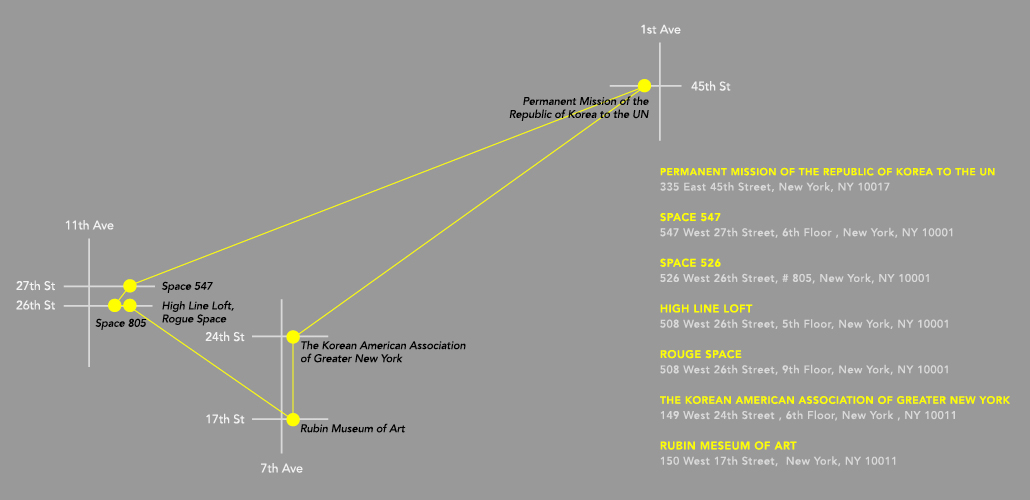 Hanji Project New York | office@hanjinewyork.org | www.hanjinewyork.org
Korea Office | Hanji Development Institute | 16, Musil-dong, Wonju-si, Gangwon-do, Korea | Tel : 82-33-734-4739 | www.hanjipark.com